The Latest Market Moves
Bitcoin, the world's leading cryptocurrency, made another attempt to break the $27,000 barrier but fell short. Meanwhile, Chainlink, a decentralized oracle network, has emerged as the day's top performer, with its native token soaring by about 6%. This market activity comes after a volatile trading week, where Bitcoin first plummeted to a two-month low of under $25,000 before rebounding due to positive news surrounding a spot ETF application. As of now, Bitcoin's market cap stands just above $520 billion, with a dominance of slightly over 49% in the cryptocurrency market.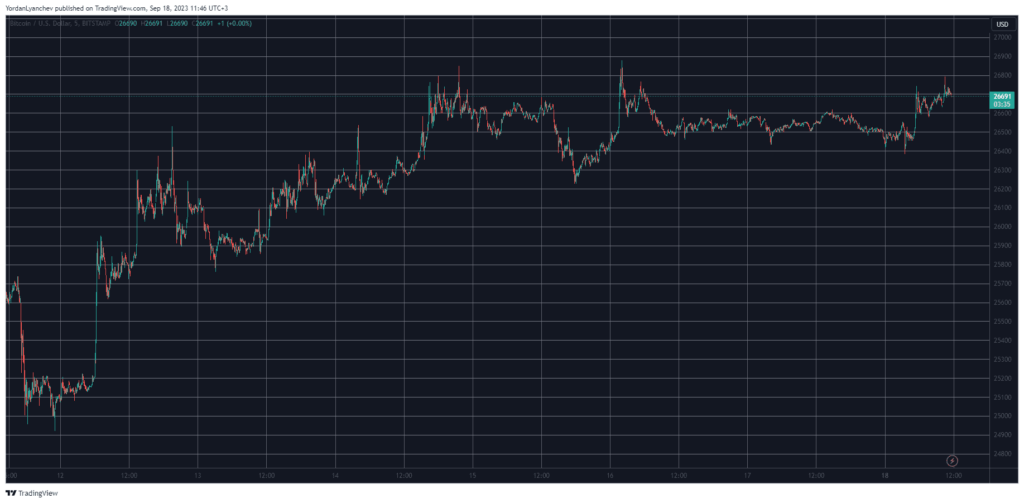 The Rollercoaster Week for Bitcoin
Last Monday was a turbulent day for Bitcoin. The cryptocurrency first dropped by $1,000, hitting a two-month low below $25,000. However, the tide turned quickly with news of another application for a spot ETF, propelling Bitcoin back above the $26,000 mark. The rest of the week saw a gradual increase in Bitcoin's value in USD, peaking at $26,900 on Saturday morning. Despite these gains, Bitcoin failed to maintain its upward momentum and currently hovers below the $27,000 mark.
Chainlink Steals the Spotlight
While most larger-cap altcoins like Ethereum, Binance Coin, and Solana have shown minor gains, Chainlink has outperformed them all. The token is up by more than 5% and currently sits above $6.5. This surge comes even as TONCOIN, another top performer, slipped by more than 3%. The cumulative market cap of all crypto assets remains relatively stable at just over $1.060 trillion.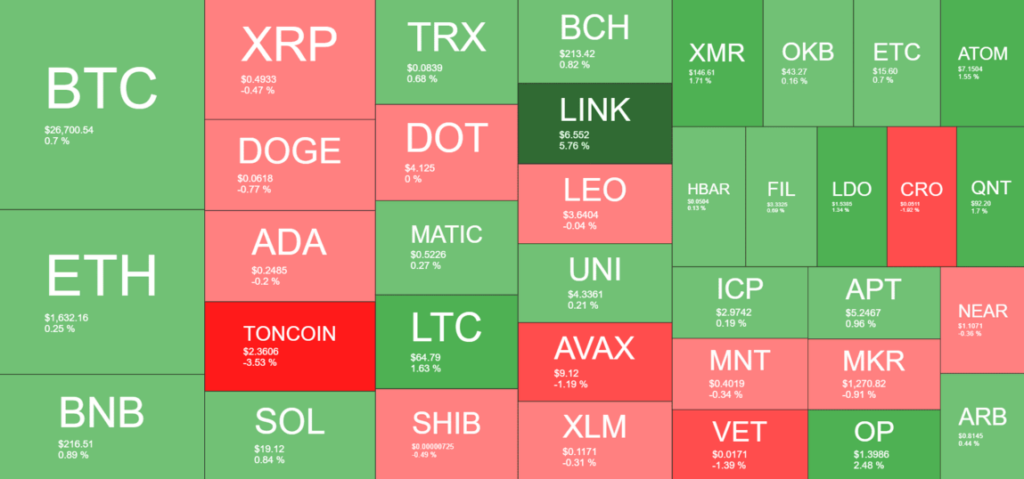 A Balanced Perspective
From my point of view, Bitcoin's inability to sustain its upward momentum could be a cause for concern among investors. While the cryptocurrency has shown resilience in bouncing back from lows, its repeated failure to break the $27,000 barrier may indicate underlying market skepticism. On the flip side, Chainlink's performance serves as a reminder that the crypto market is not solely dependent on Bitcoin. Altcoins like Chainlink have the potential to offer substantial returns, diversifying investment portfolios.
Pros and Cons
Pros: Chainlink's rise could signify a broader acceptance and utility of decentralized oracle networks in the crypto ecosystem.
Cons: Bitcoin's struggle to break the $27,000 mark could be indicative of market volatility and investor caution, potentially affecting its short-term growth prospects.
In conclusion, the crypto market remains a dynamic and ever-changing landscape. While Bitcoin struggles to break new ground, altcoins like Chainlink offer alternative investment opportunities. As I see it, diversification remains key in navigating the volatile waters of cryptocurrency investments.