The Surge and the Underdogs
Bitcoin has recently touched a two-week high, nearing the $27,000 mark. This surge comes after a period of stagnation and even a slump to a two-month low earlier this week. The altcoins, however, are not to be left behind. Coins like VeChain (VET), Axie Infinity (AXS), and THOR have outperformed Bitcoin in the same timeframe. The total cryptocurrency market capitalization has surpassed $1.05 trillion, adding over $50 billion in just five days.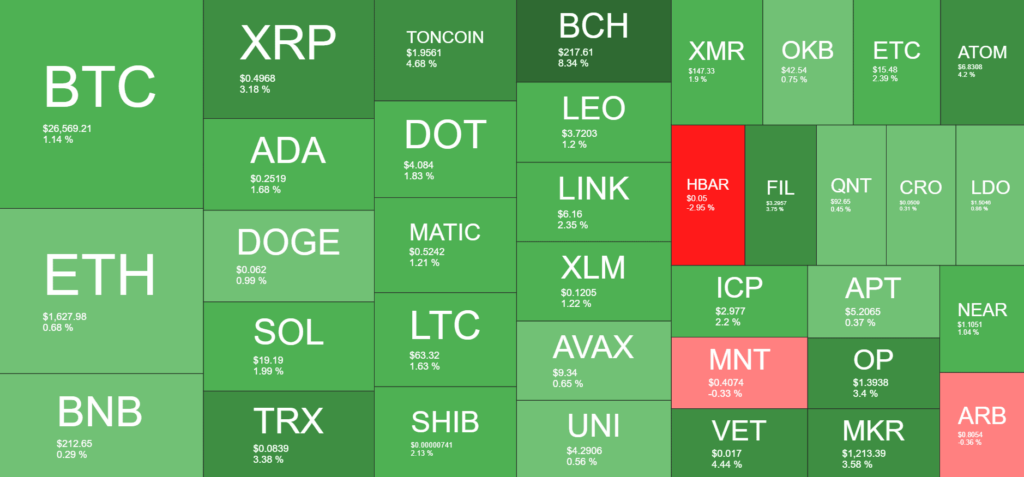 The Market Dynamics
Bitcoin's price has been on a rollercoaster ride. After trading sideways for several days at just under $26,000, it lost about $1,000 and hit a two-month low. However, the bulls took control and the cryptocurrency regained its lost value, even spiking above $26,000 more decisively than before. The market was wary of enhanced volatility when the US CPI numbers were released, but Bitcoin maintained its position. As of now, Bitcoin's market capitalization is close to $520 billion, and its dominance over the altcoins is above 49%.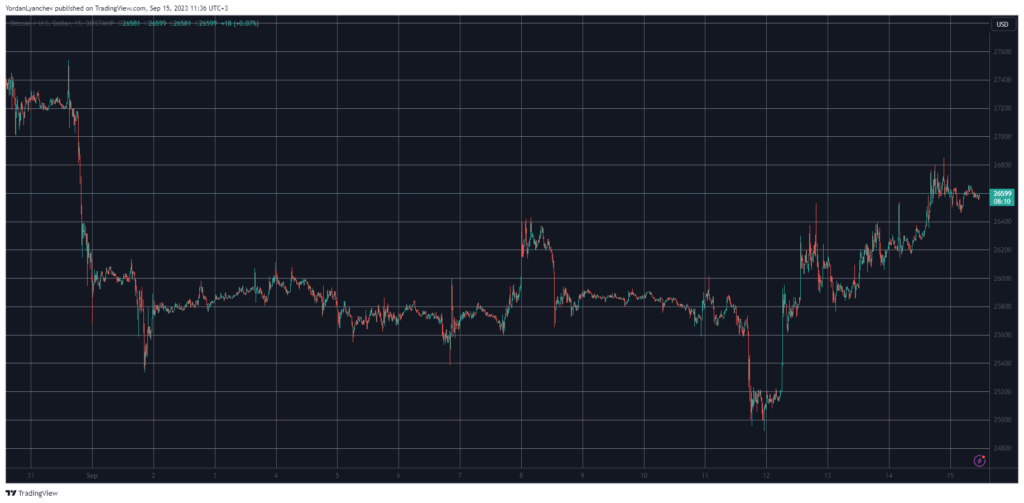 A Closer Look at Altcoins
While Bitcoin has been making headlines, altcoins like Ethereum, Binance Coin, and Dogecoin have also seen gains of up to 1%. More impressively, coins like Ripple, Tron, and Toncoin have soared by 3-4%. VeChain and Axie Infinity have seen gains of 5% and 10%, respectively. This suggests that while Bitcoin continues to dominate the market, altcoins are carving out their own space and offering investors a diversified portfolio.
My Two Cents
From my point of view, Bitcoin's recent surge is a positive sign for the market, but it's crucial not to overlook the performance of altcoins. They offer diversification opportunities and can sometimes yield higher returns than Bitcoin. However, they also come with their own set of risks, including higher volatility and less market adoption. As I see it, a balanced portfolio that includes both Bitcoin and promising altcoins could be a wise investment strategy.
In conclusion, while Bitcoin's near approach to $27,000 is noteworthy, the performance of altcoins should not be ignored. They have shown resilience and growth, often outperforming Bitcoin in shorter time frames. This could be an indicator for investors to look beyond Bitcoin and consider diversifying their cryptocurrency portfolios.