A New High for Near Protocol as Bitcoin Rebounds
After several days of lateral movement around the $36,500 mark, Bitcoin (BTC) has made a significant leap, surpassing the $37,000 threshold. This upward trend in the cryptocurrency market is not just limited to Bitcoin; most altcoins are experiencing gains, with Ethereum (ETH) notably recovering the $2,000 level after a recent drop. Among these, Near Protocol (NEAR) stands out with an impressive 17% surge in its value.
The primary cryptocurrency, Bitcoin, experienced a sharp decline on November 15, plummeting to a weekly low of $35,000. However, the market's resilience was evident as it quickly rebounded, with Bitcoin adding approximately $3,000 to its value and briefly touching $38,000. Despite this, the surge was short-lived, and Bitcoin's value dipped below $36,000 before stabilizing between $36,000 and $36,500.
The early hours of Monday saw Bitcoin's value jump to $37,500, and although it has since lost some momentum, it remains above the $37,000 mark. This recovery has increased Bitcoin's market capitalization to nearly $730 billion, maintaining its dominance over altcoins at over 51%.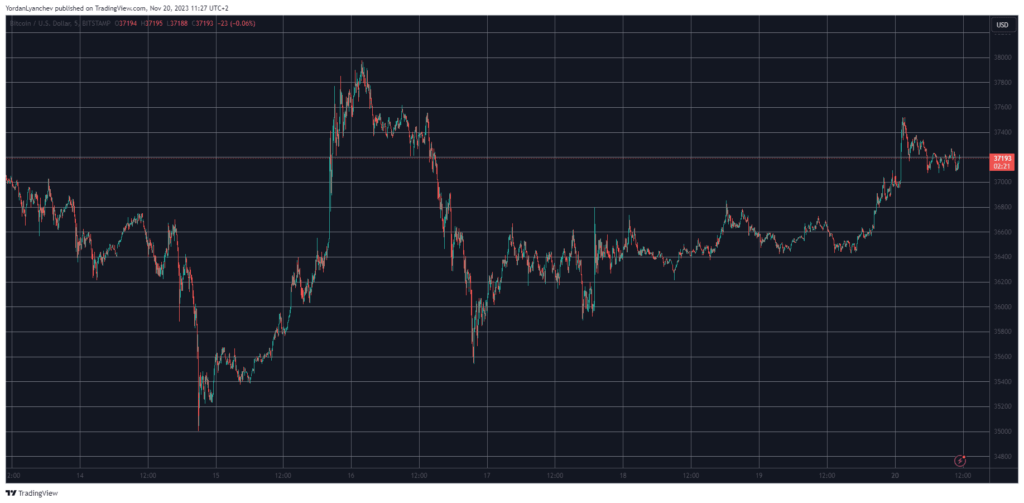 The Rising Tide of Cryptocurrencies
Near Protocol's native token, NEAR, has emerged as the top performer among larger-cap altcoins, with an almost 20% increase, trading well above $2.1. This surge is part of a broader trend in the cryptocurrency market, which has seen significant gains across various tokens. Chainlink, Aptos, IMX, HBAR, and LDO have also experienced notable increases, with gains of up to 8%. Other major cryptocurrencies like ETH, ADA, MATIC, DOT, XRP, BNB, DOGE, TRX, AVAX, and LTC have seen more modest gains.
Interestingly, SOL, a top 10 altcoin, is the only one in the red, having decreased by 2.5% and currently trading at around $60. The total cryptocurrency market cap has added approximately $20 billion in a day, reclaiming the $1.4 trillion level.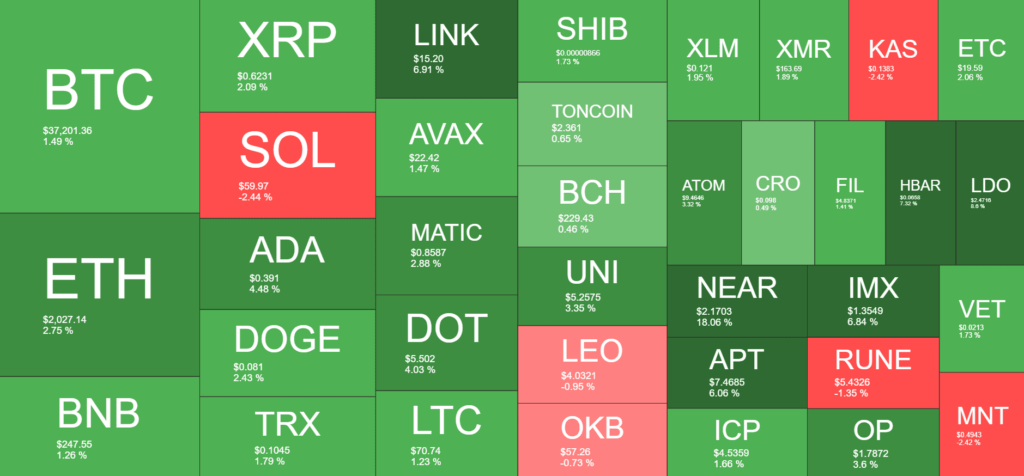 Analyzing the Market Dynamics
From my perspective, the recent surge in Near Protocol and the overall recovery of the cryptocurrency market, including Bitcoin, indicate a renewed investor confidence. The rapid recovery of Bitcoin from its recent low suggests a strong market resilience and an underlying bullish sentiment among investors. The performance of NEAR, in particular, highlights the growing interest in altcoins, which are increasingly seen as viable investment alternatives to Bitcoin.
However, the volatility of the cryptocurrency market remains a concern. The quick reversal of Bitcoin's gains and the fluctuating values of altcoins like SOL underscore the inherent risks associated with cryptocurrency investments. While the current market trend is positive, investors should remain cautious and conduct thorough research before making investment decisions.
In conclusion, the cryptocurrency market is showing signs of robust health, with Near Protocol leading the charge among altcoins. While this presents opportunities for investors, the market's volatility necessitates a cautious approach. As the market continues to evolve, it will be interesting to see how these digital assets perform in the long term and how they shape the future of finance.