The Unpredictable Surge of Dogecoin in a Volatile Market
In a surprising turn of events, Dogecoin (DOGE) has witnessed a remarkable 10% increase in its value, defying the broader cryptocurrency market trend. While Bitcoin (BTC) and several altcoins faced significant retracements, DOGE stood out with its unexpected surge. The primary cryptocurrency, Bitcoin, experienced a notable decline, failing to surpass the $38,000 mark and plummeting by over $2,000 in a single day. This downturn was mirrored by most altcoins, including Ethereum (ETH), which lost the $2,000 level despite BlackRock's ETF filing, and Solana (SOL), which saw a double-digit percentage drop.
The market's volatility was evident as Bitcoin initially traded sideways at around $37,000, only to face a sharp decline to a weekly low of $35,000. Despite a brief recovery, BTC's price dipped again, falling below $36,000. This fluctuation led to a nearly 3% decrease in its value and a drop in market capitalization to under $710 billion. The dominance of Bitcoin over altcoins remained steady at 51% according to CoinMarketCap (CMC).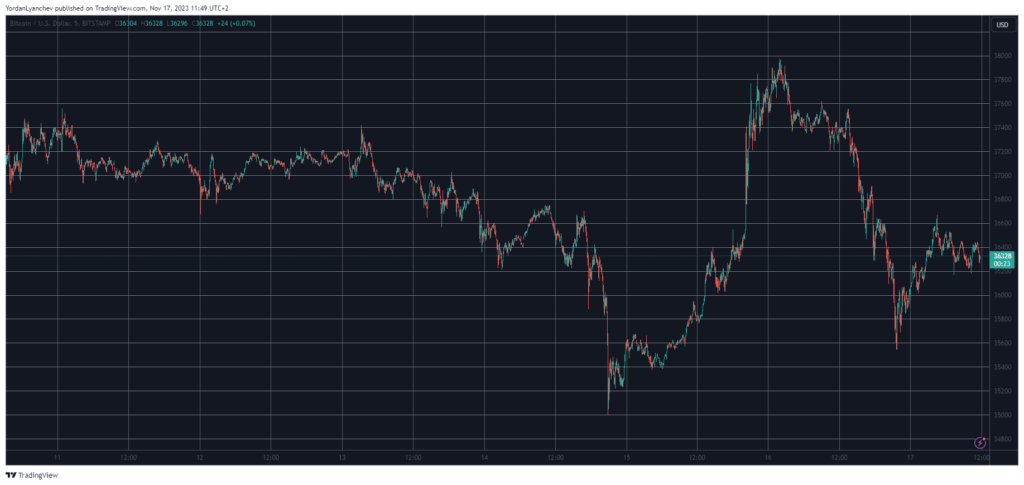 Background: A Volatile Landscape for Cryptocurrencies
The cryptocurrency market has been characterized by its high volatility and unpredictability. The recent developments with Bitcoin and altcoins are a testament to this. The market's reaction to BlackRock's filing for a spot Ethereum ETF with the SEC is particularly noteworthy. Despite the initial optimism, Ethereum's price declined by around $100 following the announcement, indicating a classic 'sell-the-news' scenario.
Other cryptocurrencies like Binance Coin, Ripple, Polkadot, Litecoin, Toncoin, and Uniswap also experienced similar declines. More significant drops were observed in MATIC, AVAX, LINK, ADA, and SOL, with Solana experiencing a decline of over 10%. The total crypto market cap nearly erased all gains from the previous day, falling back to just under $1.4 trillion.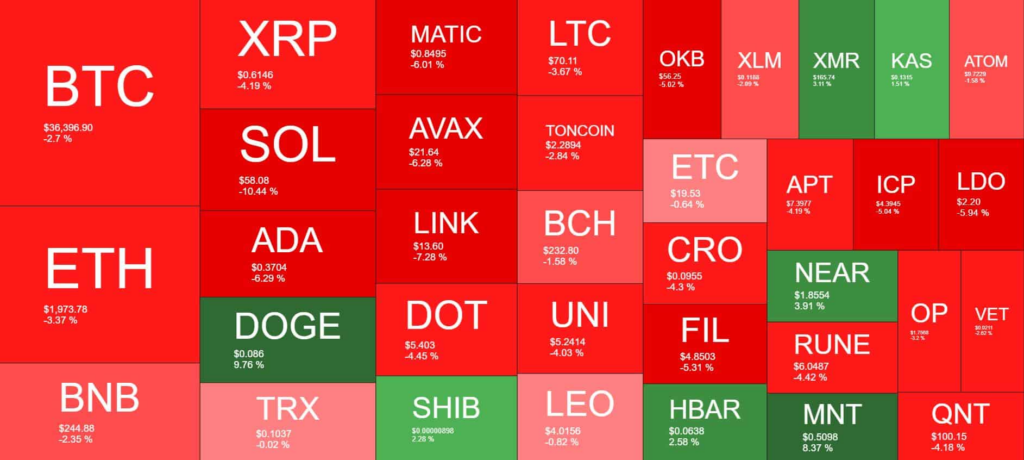 Personal Commentary: The Unpredictable Nature of Cryptocurrency Markets
From my perspective, the recent surge in Dogecoin's value amidst a general market downturn highlights the unpredictable nature of cryptocurrency markets. While it's encouraging to see a coin like DOGE perform well in a challenging environment, this event also underscores the inherent risks and volatility associated with crypto investments. The market's reaction to news events, such as BlackRock's ETF filing, often leads to rapid and unexpected price movements, reflecting the speculative nature of these assets.
On the one hand, the resilience of Dogecoin in such a market scenario can be seen as a positive sign for its supporters and investors. On the other hand, the overall market downturn, especially for leading cryptocurrencies like Bitcoin and Ethereum, serves as a reminder of the market's sensitivity to external factors and news. This volatility can be both an opportunity and a risk for traders and investors, emphasizing the need for caution and informed decision-making in the crypto space.
In conclusion, while Dogecoin's performance is noteworthy, it's essential to approach cryptocurrency investments with a balanced perspective, recognizing both the potential rewards and risks involved.